hi
i have Sync3 and i tray to update to 3.4 but I'm getting error
4U5T-14G421-FAF_1580861298000.TAR.GZ
Likely your files are corrupt re download them
i have remove the file (that was for the map) & it setup was completed.
my H/W part number HB5T-14G380-AA & in ForScan (APIM) there is Navigation and it has many thing in the list. I don't know which to choose form the list
but my sync 3 has gps so can i add navigation im living in the Middle East and i use ROW
You can not add navigation to non nav units. There is not enough storage space!
as for the Forscan it show that i could enable navigation as per the attach
H/M part number HB5T-14G380-AA
thanks for your support and have nice day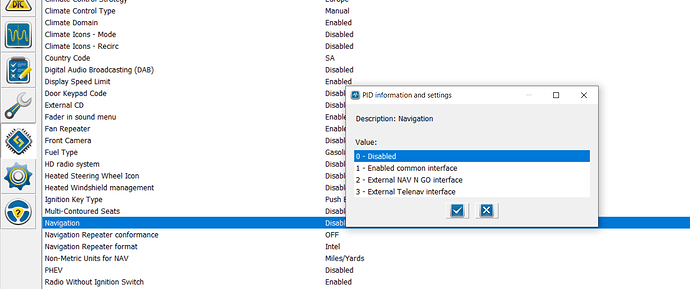 You can so that on all of them doesn't mean you have a navigation unit. Is your unit navigation from factory?
can we know by the part number
who can we know the memory size
3rd time asking this question… DID YOUR UNIT HAVE MAPS WHEN YOU BOUGHT IT?
no, it don't have , I just want to know so i could buy it form use part
For future reference: unit is not nav variant, maps can not be installed on non nav units (some exceptions)
Does NOT have NAV from the factory.