I recently added navigation to my 22 Maverick by swapping in a new sync 3.4 APIM. Everything is working fine, except I am unable get Sirius traffic to work. At first the Sirius travel link options didn't even appear, so I enabled it in the as built settings for the APIM. Once enabled, I called Sirius to have traffic added to my account. Since then, I've tried doing a master reset, and multiple signal refreshes in my Sirius account. Everything after Audio still appears as "Unsubscribed" in the Sirius subscription info page in the car. I saw a similar issue someone had on the ford escape forum, and they mentioned changing something in the ACM to allow the APIM to receive the traffic data. Unfortunately, I have a newer ACM and whatever setting they used was not documented in the as built database here for my newer ACM. I even tried an ACM as built from a '23 Mav that came with nav and had no luck there.
Could there be something in the TCU that needs to be changed as well? I'm running out of ideas here.
When I start up the vehicle, all of the Sirius subscription options show unavailable and slowly turn to unsubscribed one by one. So it appears that it's at least checking for the service every time it turns on. I called Sirius again today to see if it was anything on their end and they didn't seem to think so. They gave me a $10 credit on my account though so I at least have 3 free months to figure this out.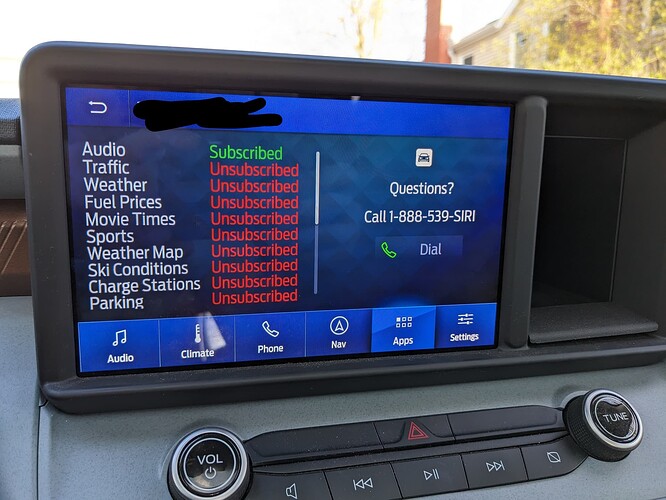 ---
SYNC Region: NA
Navigation Variant: Nav
Manufacturer Year: MY20
Install Type: OEM Replacement
Old SYNC Version: 3.4.22251
New SYNC Version: 3.4.22251
Do you have a error message, if so what is it?
Update Method: Official Ford