Pictures from a FCC submittal?
Actually 1 of 3 submittals.
Pretty safe to assume that there's no way to go from 3.4 to 4.x with 3.4 compatible HW, right ?
Sync 4 APIM may work in Syn3 cars but there won't be a UPDATE to make Sync3 be Sync4
Not Optimistic. The hardware is completely different, including the interface to the vehicle.
Again, not optimistic. It will take some work to do it and I think it can be done, but is it worth it to hack up the car for this…time will tell.
I reckon it will work, the only interesting thing of note is the module makes use of ethernet for communication with other modules rather than solely relying on hscan. I have seen that sync 4 will be fitted to the Focus mk4 which is only hscan, so it should in theory work OK on modern fords.
Pretty confident that C1MCA (focus mk3, kuga/escape etc) will NOT work though.
Does C1MCA include a Transit Connect?
Thanks @louage. Does anyone know what these ports are? When Mitchell from Town & Country TV opened the glove box, he found this. He said it was a pre production vehicle, so something will look out of the ordinary. It might be ports to access different modules and update their firmware?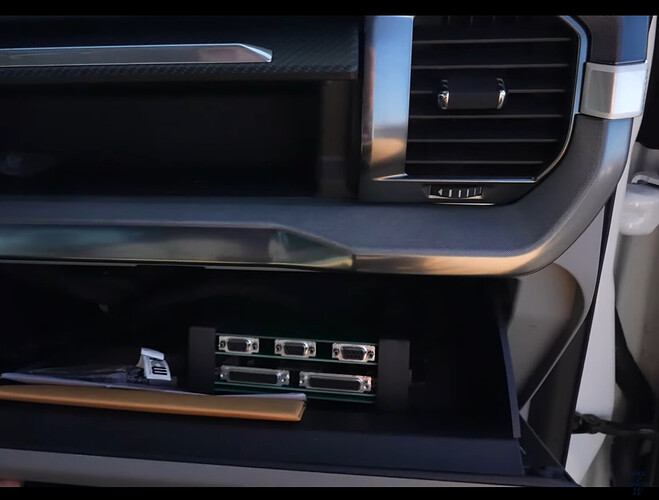 Yep. Seen this arrangement quite a bit when I was doing camera safety systems, like the HUD's and stuff, for military vehicles years ago. Usually there is an extender box that ties into the vehicle networks. This allows the engineers to readily connect to the vehicle without having to compete for ports.
This is 100% for testing only. Those are 9 pin and 25 pin serial ports. The 9 pins were mostly used for mouse inputs and the 25 pins were mostly used for printer ports. This was way before USB were a thing.
I'm sure that they are being used for the amount of pins and low cost for testing. A single USB 2.1 port will outperform all of those ports combined. I'm just typing for the young ones who aren't familiar with these ports. Hell, those ports may not even be used for data for all I know.
Yup
DB9 serial and parallel ports I'm youngish but not apparently old enough to know that

I agree they are unlikely to be used for the original purpose but rather that the connection has enough pins to do what they want, my Logitech speakers use a Hd15 dsub and a DB9 connector for the speakers / leds