I have a 2022 Maverick that came stock with Sync 3.4 and without factory Nav. This week I replaced my APIM with a navigation version and everything appears to be working correctly. I was able to get the built in Ford nav directions to appear on the cluster by enabling "Navigation Repeater" in the IPC but Android auto only partially works. When using Android auto it only shows a tiny little arrow in the upper left corner without the street name or any other info. There is no "pop up" that takes up the whole screen like with the factory nav. I have seen AA work on other models with different clusters online but I have never seen someone claim to have it showing turn by turn directions with this cluster so I don't even know if it is possible. It works on the clusters with the smaller 4" display so I would be very surprised if mine didn't. Can anyone verify if this is even possible with the 6.5" cluster screen before I waste any more time on this? So far I have seen that this cluster comes in certain models of the Maverick, Escape, Bronco Sport, and Explorer.
I have my APIM updated to the latest sync version. Here are some pictures to show what I am talking about.
---
SYNC Region: NA
Navigation Variant: Nav
Manufacturer Year: MY20
Install Type: OEM Replacement
Old SYNC Version: 3.4.22251
New SYNC Version: 3.4.22251
Do you have a error message, if so what is it?
Update Method: Official Ford
Factory Nav display on cluster: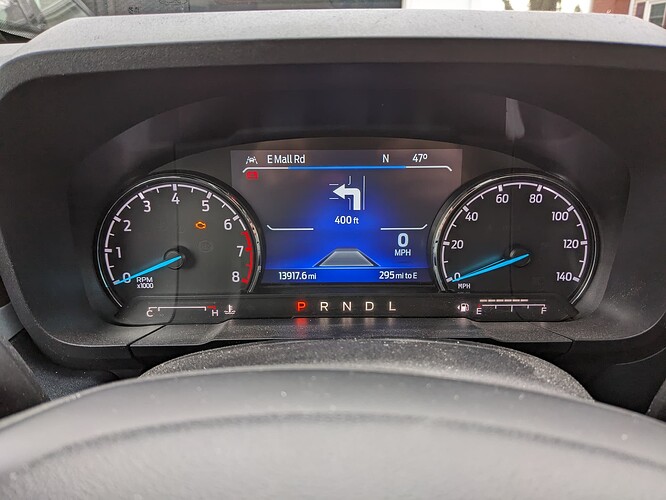 Android Auto on cluster: