Hi,
I am trying to get navigation repeater on my Ford Mondeo MK5 2016.
Updated Sync to 3.4.22110 and selected enabled all in FORScan from simple dropdown menu in IPC and APIM but without luck.
Tried with Motorola to Intel and vice versa, did master reset of Sync and nothing.
My IPC looks like this: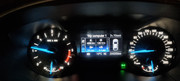 Is this possible to do or I am missing something?
Will IPC firmware update fix this for me?
Also one question, if I make firmware update will settings be reset or will stay with current values?