Introduction
Sync 3.4.22110 has been found online and added to Syn3 Updater!
For each new release a specific thread will be created, please use this thread to post any feedback or issues you have noticed for the corresponding release.
Important Notes
This release contains a new Logo package, new Voice packages and therefore does not have the issues with missing logos that previous releases did.
Additionally maps have been released
EU : Reformat or AutoInstall (not ESN Locked)
NA : Reformat (ESN Locked)
ANZ : Reformat (missing license file)
ROW: Reformat (missing license file)
CN: Unknown
If you are not MY20 and can use reformat, Syn3 Updater may suggest downgrade instead of reformat if you are on SYNC 3.4.19274 or higher as the reformat tool is blocked on these and therefore needs to be downgraded first, this requires only 1 USB for the whole process still, do not attempt to override these modes unless you 100% know what you are doing
AND DO NOT REFORMAT IF YOU ARE MY20!
Rules
Do not reply to this thread with general issues that are not specific to 22110 or the new map packages
If you notice a bug or change specific to this feature report it below
Failure to follow the above rules will result in your post either being moved (if moderators or myself are feeling generous or deleted without prompt)
To clarify, MEM_ERR's, Missing Logos, LST_ERRS etc should not be posted here, make a new thread using this Support Link
Install Methods
Syn3 Updater
You can update using Syn3 Updater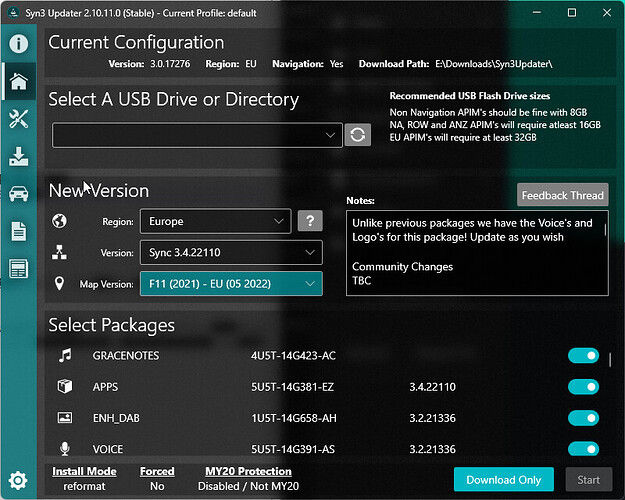 Quick Links
China : syn3updater://Region=CN;Release=3.4.22110
Europe: syn3updater://Region=EU;Release=3.4.22110
North America: syn3updater://Region=NA;Release=3.4.22110
Australia: syn3updater://Region=ANZ;Release=3.4.22110
ROW: syn3updater://Region=ROW;Release=3.4.22110
Manual Method
It's also added to the manual method available at the below link
App Package URL
Official Issues
Clock will stop during ignition off
Clock and compass not working in non nav row hardware without TCU
(Believed to only affect new vehicles, unconfirmed)
Community Spotted Issues
Sync 3 Phone button does not redirect to Carplay phone app after updating when Carplay is active
What I checked is this: disable Carplay in Sync. Pair iphone with Sync. Phone does turn up under phone button. Enable carplay. Phone disappears.
Gracenotes might not be working, may require a new package, needs to be tested, not showing in version information though.
Community Spotted Changes
Technical Information from FMods
Package Name: 5U5T-14G381-EZ
Epoch: 1652218180000
Major Version: 3.4
Build: 22110
Package Date: 2022-05-10
Release Date: 2022-05-22
Build Date: 2022-04-10
List of Changed files: SYNC 3 BUILD 3.4.22110 Changed files - by Fmods.netM Manifest.txtM NAV/Job - Pastebin.com
Visible Changes: Not Tested!
Changes (based on diff):
Removed the Park Aid Toggle button from RVC Settings (cannot turn it off anymore i guess)
Updated some libs / binaries / ifs
Updated SXM Logo archive
Most important thing:
Does JB works? Yes!!
This is a milestone release.
Two things could happen now:
They will start working on a new branch, like 3.5 or maybe a stripped 4.0, or more likely, they will continue developing version 3.4 (is still labelled as RC lol) and they will just change the package branch (E* finished the letters ^^)
Sync 3 development stopped unless serious bugs are found