Unless your car was manufactured in 2020/21, yes
if it's SYNC 3.0 it definitely won't be MY20/21

If it helps, I just upgraded from 3.0.19205 to 3.4.20282 with no issues.
2fmhk6c87jba17195
2018 Ford Flex SEL AWD
Yes. You will use the reformat function and select the current version of 3.4.20282 and select navigation.
Getting ready to update my Sync 3 and confirm the details before I pull the trigger on it. Looks like everything will be fine; 2019 Escape w/o Nav?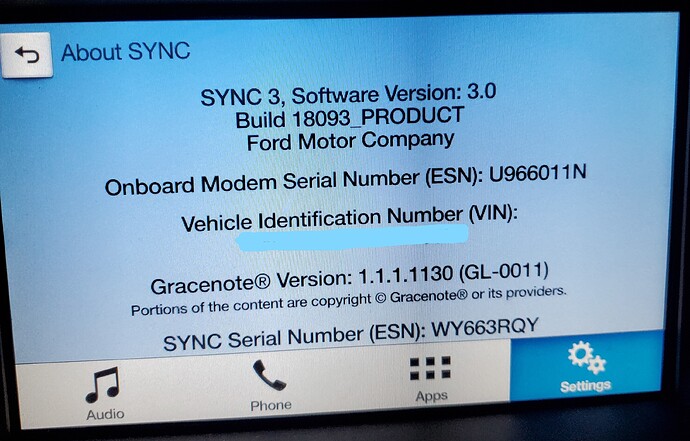 This looks fine. You may need to reactivate your on board modem after the upgrade thru the FordPass app. There is a newer version of Gracenotes for NA not available thru the Syn3Updater as of yet. It is a smaller file which is favorable for the NON-NAV units. You will need to edit the reformat.lst file and place it in the SyncMyRide folder on the usb if you choose to use it.
https://drive.google.com/file/d/10eJO0HTn9TIKbBCXs7Ewe9x4N75v53uw/view?usp=sharing
This is a US vehicle in PA?
Ok cool, understood. Thanks for the link.
Correct - US Vehicle in PA.
Is this a full version of Gracenotes also usable on NAV units, or is it cut down in some way specifically for non NAV? Any idea why it's smaller?
It is a full version as the others, and to note all of the new Gracenote files are smaller than the previous versions. I have not noticed any difference other than artists have been added.
2018 Ford Flex SEL W/Nav
Thanks for the help.
Yes it's sync 3 any sync 3 will work
Many thanks, it does help.
Is smaller version of GN also available for Non Navigation ROW (4)? Thanks.
The new version is actually larger than the previous for ROW. 4U5T-14G423-FB 919.31 MB
Thanks a lot. Can I include the file in manual reformat mode while upgrading to 3.4.20351 from already downgraded 3.3.19052.
Yes you can include it in the reformat. But it is possible the update will fail due to lack of space. You could update without it first, then run the APIM Interrogator utility and check the storage space first, and then install it if there is enough space to do so.
Thanks. I have tried the 2nd option suggested by you . Though It shows 1.1 gb space. But even 742 mb Gracenotes file installation showing Mem 03 error. So I thought should I try Reformat method at one go including Gracenotes file but afraid of bricking it.
I think that you don't have the space to do this.