When will the 2020 maps of China be added?
Okay… Now i try to update only the map from F9 to F10… I unmarked all that is to the 21020 and i got this error
lts-error 08
Is there no way to update to F10 now ?
I allready have the 21020 install, and it on a Ford Fiesta Vignale 2020 Europe. I cant use reformat tool becase it will break my unit.
I hope some one will help and not tell go and google becase im not good at this, and yes its easy maybe - but we all are not genius

Hello. If I have apim MY20 but display 2018, can I use reformat?
The error you are getting is because the autoinstall file has over 10 items, and that's not allowed. I'm no expert, but I think it could be splitted into more sections or operations.
But wait confirmation from someone with more knowledge that me.
I think so, yes, because the issue is with the drivers and new screens, not the APIM itself.
But I would wait confirmation from someone more knowledgeable than me.
no idea, i believe it's fine but you are doing it at your own risk.
Here's how the Ford autoinstall to F9 maps looks. You could edit your F10 autoinstall to look like this and maybe it will work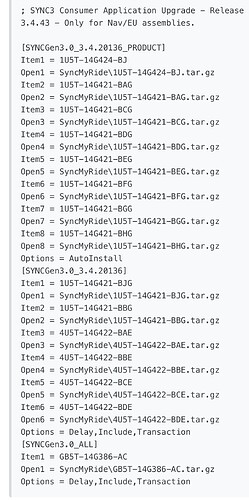 You are correct, @SaNdMaN .
The info @colinmcg71 posted is a good example. To install maps like the manufacturer script, pay attention to the package order.
it looks that your apim is 32 gb . YOu have to cut some maps , choose only those that you need
I agree, but unless you bought the APIM and screen separately this scenario would not exist in a production vehicle from the factory. (Of course it probably could happen…)
It will be so nice if the update program also will made only map update usb also…
Is it not possible to that Cyanlabs made a only map update in the software ? I guess im not the only one that has a MY20 and get into this problem to update the map.
i had same issue , but cutting maps help
It is still SYNC 3. No difference