Noticed this in my list of DTCs after messing about in ForScan recently on other tasks. Seems to stick even after clearing everything. So far the APIM is behaving normally otherwise, other than the known screen flickering issue. Powers up and shuts down normally, brightness and day/night auto mode changes as expected. Not sure what's up. Maybe something up with my AsBuilt? Though nothing has changed in quite a while. I think the last modifications I did were when I had posted about the climate repeater stuff a while back.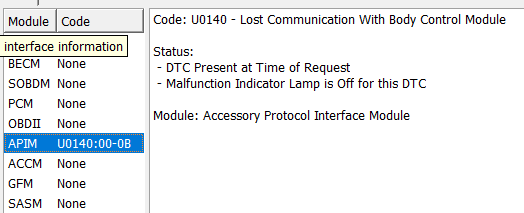 APIM_20220310_162154.abt (349 Bytes)
Since things seem to be working otherwise, I'm not too worried but mostly curious. Wouldn't be the first time I would have happened to goof something up or fat finger a number somewhere.