TBM hex value is 0 is that correct?
PM me your VIN for the 2017 Explorer, please.
PM sent.
I am hesitant to try and update the TCU firmware. I've read up on the ForeScan forums about how risky it is to use FS 2.4.6 beta which allows you the ability to flash the firmware to the modules. I have the OBDLinkEX cable as recommended by the ForScan dev team but still makes me hesitant.
I am comfortable with my skills and knowledge it makes you think long and hard about attempting it esp since the FS dev team posts that the beta version is not safe in the OP.
I haven't been able to find any documentation that knowledgable FS users have had no problems flashing updated firmware to the TCU using 2.4.6 beta. If I was able to find feedback from successful use in the field I would feel a bit better. That said……
Couple of questions:
Is there a safer/more stable software to use to flash firmware?

When flashing firmware updates is it a must to have key on engine off and have a charger hooked up, or can you flash with the engine running?
I've read that any fluctuations in voltage is often the root cause for corrupt firmware being loaded and bricking the module.
Stable power is always a necessity for programming and clearly the module needs to be powered on.
TCU has been flashed successfully and is now running CF version firmware.
So what is the status now?
Still unable to activate hot spot. Same message. Removed Explorer from FP, master reset, and re activated.
Have you called AT&T to activate the unit? It will never activate with the present VIN, it is not authorized in the Ford database. You can see this by logging into the Ford Owner website (make an account and add your vehicle.)
I have flashed several TCU's without any problems. They do take a while though.
Hotspot will work without FordPass. So, I got to ask, are you not seeing the hot spot in Ford Pass or in the APIM? I only ask becuse there is nothing you will ever be able to do that makes it show up in Ford Pass.
I can see it in FP. When tap to enable it I get the notice pop up that says Vehicle Hotspot feature is not enabled in this vehicle"
I haven't, as I didn't have any issues activating it with the donor vin
You must mean the Fordpass option in Apps on the ACIM.
Yes when you tap on the FP tile under settings I can see hot spot. When I tap to enable it I get the notification
Can you go into connectivity settings and do you see hotspot in there?
I was just chatting with TXFRDOwner from the 150 forum about this and we settled on updating the hex value for block 7D0-08-01 to xxx1 xxxx xx–
right now this menu isn't showing under settings. Changing that block hex value to 1 should re-enable it and I will try enabling hot spot that way.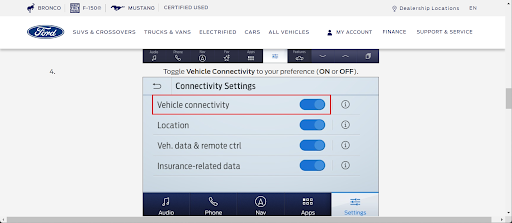 I was able to get it enabled. I went back through the TCU Asbuilt and double checked all hex values against what @F150Chief posted in his document and found 1 mismatched value. I corrected it, wrote the data. Disconnected forscan removed the Explorer from Ford pass. Signed out and Deleted the app from my phone. Did a sync master reset. Downloaded FP app signed back in, added the Explorer to FP account. Authorized TCU. Once authorized I was able to enable hotspot.
Those pesky asbuilt codes! Glad you got it fixed. Enjoy.
Thanks again for all your help! Do have one more question… Vehicle connectivity menu… will this function on the 17's ?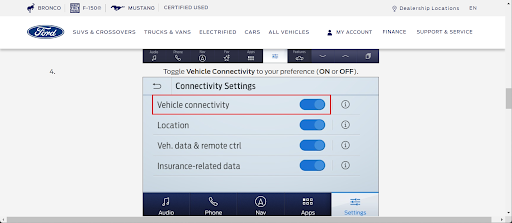 I have it enabled, but I get an alert that says the menu can't be opened to check to make sure the ignition is on and try again later.