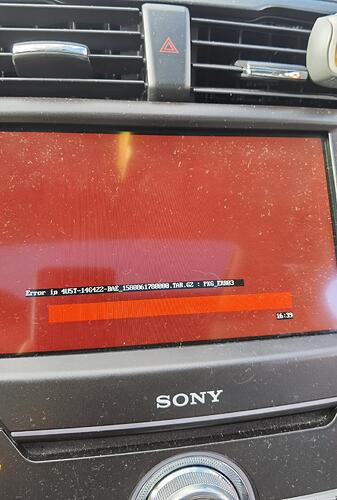 Hi. Everything goes ok with installation until this pack. Any Advice? Should I try to download it again this pack?
Post you reformat.lst please…
I assume you are putting EU maps on a NA 2018 Fusion?
Yes, I do. I cuted manually maps and voices. I had to do reformat and autoinstall by my self, sync3 updater didnt put anything on usb stick, it only download all tar.gz packs on hard drive.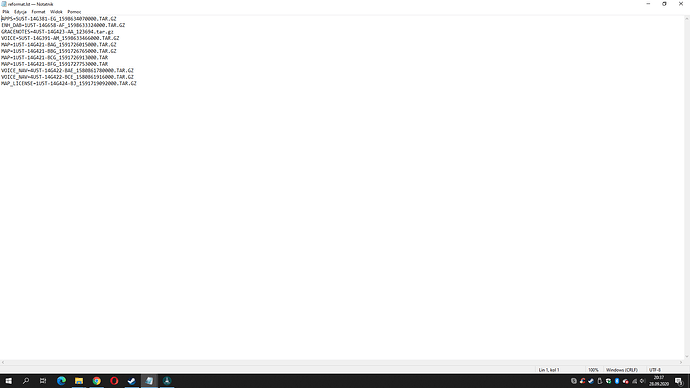 ![sync|690x388]
You might have too many maps. The example in the first post shows that 3 map packages are used. (I am assuming he did this for storage space.)
Read this thread:
See Aaron's post from June 17, he was able to load this successfully.
Post your log.txt file from the USB
I don't have one. Should be on USB after installation?
It should be on the USB, that's right. Try re-downloading installation files, that feels to me a like an issue with one of the packages. I would also suggest starting with bare minimum. Put only Polish maps (BAG, BBG and BFG) and keep just BAE and BBE voice packs (do not add BCE). If this works well, you can try new combinations.
Thanks for answering that, Pagrabinis…
Hello everyone I was able to update both the SYNC and the F9 maps, however I have a problem with the logos of some DAB and FM stations, most of them are visible, other logos do not appear. is this a solvable problem? is it possible to add the logos of the broadcasters by hand?
thank you
I have updated 3.0 NA version to 3.4.20196 with maps 1U5T-14G421-BGG & 1U5T-14G421-BHG and only 4U5T-14G422-BAE voice package. Everything went well, except the menu written language is English US and voice commands are in German, even after master reset. How to change voice commands language? Or maybe after I change the country code inside the APIM I will see the whole languages list? Any suggestions? Thank you.
That may work. You need to change it for the NAV to work properly. What language do you desire?
Plain English, but currently settings language selector only has English (US), French, Spanish and voice commands respond in German no matter which one I select.
Your system voice file is probably the NA (North America) file, based on the language selections.
You have EU maps and EU nav voice installed.
Help me out here…
If I understand correctly, you want English map prompts?
Are you and the car in Germany?
Have you set your country code to Germany?
The 4U5T-14G422-BAE voice package should have English available.
4U5T-14G422-BAE

2.2Gb Sync3 v3.2.19324 EU, Nav Data version: 800. Packaged on: 20190915 (3) EU (DUN,ENG,FRF,GED)
Maybe @Louage can input here?
Installed system voice commands file is 5U5T-14G391-AM (EU, not NA)
Installed map voice file is 4U5T-14G422-BAE (EU)
Therefore the installed files are correct, but settings language selection is not synced with what I have installed for voice commands (only showing English US/French/Spanish), at least not until I change the country code.
Another detail I do not fully understand is if some EU maps can be installed with reformat on a non-nav unit, since it avoids license checks (and by doing 7D0-01-02 x2xx xxxx xx). Sure, a lot of things would have to be left out (grecenote and even map voice files) but at least the car would display navigation. Or am I missing something?
There is not enough space even for partial maps on EU units
Let's see:
APPS=5U5T-14G381-EG_1598634070000.TAR.GZ (848Mb)
ENH_DAB=1U5T-14G658-AF_1598633324000.TAR.GZ (60Mb)
VOICE=5U5T-14G391-AM_1598633466000.TAR.GZ (1.53Gb)
MAP=1U5T-14G421-BAG_1591726015000.TAR.GZ (2.18Gb)
MAP=1U5T-14G421-BBG_1591726765000.TAR.GZ (451Mb)
MAP_LICENSE=1U5T-14G424-BJ_1591719092000.TAR.GZ (0Mb)
This sums up to 5Gb (even ~0.5Gb less on v3.3.19052 without ENH_DAB). I question the absolute requirement of 1U5T-14G421-BGG and another experiment would be to take it out also (451Mb, EU central map, maybe major roads). And it MIGHT be enough to fit currently the largest EU single map file 1U5T-14G421-BHG_1591728542000.TAR.GZ (2.42Gb), for now at least.
Sure, since 32Gb/64Gb units report 6gb less space than the total storage, it could be impossible, the Russian forum is hard to read entirely. It was just a thought, I don't have a 8Gb unit at hand. I would say running Interrogator would be the first step to avoid out-of-space errors. Maybe you can add a separate Interrogator button somewhere in Updater app, as troubleshooting (not for me, I have enough Sync 2 experience with Ford package updates).
And for US->EU conversion I add the following as-built changes, in addition to the ACM 727-04-01 ones mentioned at the beginning of the thread:
727-04-01 x0x1 xx55 53xx to 727-04-01 x3x3 xx55 4Bxx (EU Tuner, no SDARS content, UK country code)
7D0-02-01 5553 xxxx xxxx to 7D0-02-01 554B xxxx xxxx (UK country code)
7D0-01-02 xxx* xxxx xxxx add +8 to current value in HEX (EU ECALL strategy)
7D0-01-01 *xxx xxxx xxxx subtract -2 from current value in HEX (disable SDARS)
7D0-01-01 xxxx xxxx *xxx add +1 to current value in HEX (enable EU RDS)
DO NOT DO THAT!
You will end up in the other thread with an APIM that needs rescuing…