UPDATE
The SiriusXM and Travel Link issues identified in this post have been fixed in Sync 3.4.21194. It is recommended that users update their Sync software to this version.
Officially, this TSB applies to 2019-2021 vehicles factory equipped with Sync 3. However, unofficially, this information would logically apply to vehicles retrofitted to Sync 3.2+ from Sync 2.0 or 3.0.
For SiriusXM, the issue starts with the 3.4.21020 update. Sirius Travel Link issues have existed before this TSB and are also addressed in previous TSB releases. TSB 21-2150 rolls back to 3.4.20136 using the "Sync 3 Universal Thumb Drive", although 3.4.20351 also fixes the Sirius issues specifically. Sync 3.4.20351 can be installed using the Syn3 Updater in autoinstall mode.
There is no update past 3.4.20351 that corrects the SiriusXM/Travel Link issues, although 3.4.21098 has worked for some, and other users have not experienced any issues. Sending a SiriusXM refresh signal will not fix the issue.
There are several other issues identified in the TSB: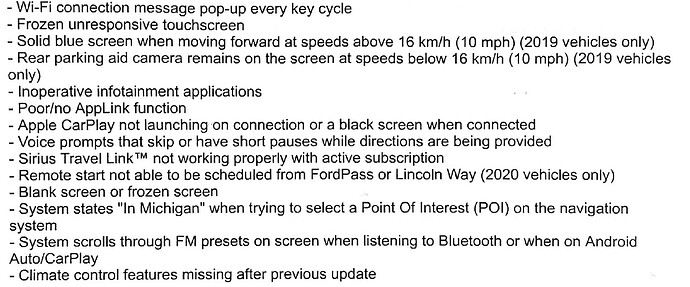 TSB 21-2150.pdf (1.4 MB)